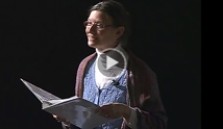 Watch video :Takoma Park Poetry — Brendan Ogg
Please join us on the 18th. As you may recall, Kathy Staudt read at Brendan's poetry evening. We are eager to hear her read her own work! -------- Kathy Staudt will be reading in the Thursday Reading Series at Takoma Park Community Center on Thurs. Oct. 18, 7:30 PM She will offer a selection of "place" poems reflecting on her life here in Silver Spring. Hosted by Martin FitzPatrick, the evening will feature Stewart Hickman, Samantha Magrath, Lisa Rosinsky and Kathleen Staudt., Takoma Park Auditorium, 7500 Maple Ave., Takoma Park, MD 20912. For more information: sarad@takomagov.org.
Click here to read the Washington Post review of the exhibit at the Smith Center for Healing and the Arts.  Words as Legacy:  A Leaf of Knowledge gets a great mention...As do artists Francie Hester, Lisa Hill and Rebecca Kamen.  Congratulations!
Please join us at the Bethesda Writers Center at 2 pm for the Poetry of Life and Loss.  The program will include Brendan's poetry read by his college roommate and fellow writer, Eli Hager.  Two other Finishing Line Press authors, Kathleen Staudt and Margaret Ingraham will be featured as well.  See this blog post for more information.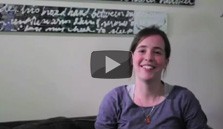 Listen to Amy Sands talk about Brendan, poetry, and friendship.
Kathleen Staudt highlights Words as Legacy - A Leaf of Knowledge, the new exhibit at the Smith Center for Healing and the Arts,  in this post,  Also see information on Kathleen's upcoming workshop, "Finding our Voices, Telling our Stories" on April 28th at the Smith Center and a reading that will include Brendan's poems on 5/27 at the Writer's Center in Bethesda.
Chase, a Brendan-inspired film by his friend and filmmaker Rachel Kopilow, has been accepted into TWO California film festivals! March 26th, 4pm - at the LA Women's International Film Festival April 15th, 1pm - at the San Fran International Women's Film Fest Best of luck!
Brendan's book, Summer Becomes Absurd, gets a very positive review by Joshua Gray in DC Poetry Examiner  Click here to read it. 
Poet, journalist and Takoma Park Commissioner for Art and Humanities, Joshua Gray, reviewed the magical evening of poetry.  Click here for more information.
Thursday, February 16, 2012, 7:30 pm – The Poetry of Brendan Ogg, part of the Takoma Park Third Thursday Poetry Series. Hosted by Michael Dirda the evening will feature a video with Amy Sands sharing funny, charming and poignant stories about Brendan and his writing. Brendan's poems will be read by Kathy Staudt, Ben Zucker, Max Donohue, and Paul Hawkins. Please join us for this special event.