Articulation: in Honor of Diane Granat Yalowitz, Collaboration 2004-2005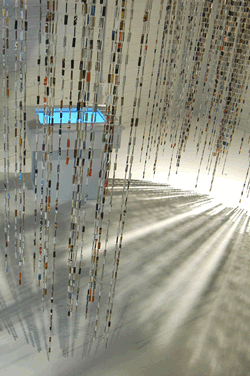 Diane Granat had a gift for words. Words that gave advice, comfort, and guidance. This memorial piece is our gift back, to honor an extraordinary woman and her life's work.
Friends, family, and even some who did not know her, wrapped over 20,000 paper clips with the words she had written. A new community emerged as those who wrapped connected through shared stories of sorrow and of hopes.
The idea of wrapping paper clips comes from a humble beginning, inspired by a family of rice farmers, far north of Beijing. The Chinese farmers, after working with their hands all day, returned at night and wrapped paper clips, joining them into chains for "screens" in their doorways and windows.
Now Diane's words have been woven together for this tribute to her life and work. The wrapped words reflect three decades of Diane's work. They are meant to transform a written body of work, so easily lost, into a living memorial — linkages of words, random at times, but with inherent messages.
More information on Articulation and artist statements can be found here. Articulation Book