A Leaf of Knowledge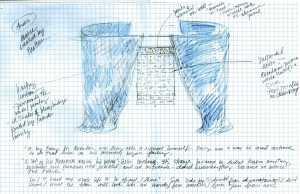 Leaf of Knowledge Concept Drawing
A Leaf of Knowledge — the title from one of Bendan's moving poems that reflects on time and the sweetness of life.
This collaborative project, A Leaf of Knowledge, is the result of a community deeply touched and inspired by Brendan's strength, optimism and his artistic gift for using words especially in his final year of life. This is also the same community that wrapped 20,000 paperclips with the memory and desire not to forget the extraordinary words written by Diane Granat Yalowitz in the Articulation installation.
Death is not the inspiration — it is the life they lived and our collective desire to carry those memories with us and to learn from them. The process of healing is deeply self-reflective and my hope is that when we collectively work, think, and chat, we not only keep memories alive but we grow deeper and wider. That is the best honor we can give to all those that go before us.
Description:
The skin of the installation begins with the knitting. The outer layer that surrounds the words, reflects on the sweetness of life. It is the simple act of being there for someone. Nurturing the ill, listening, caring, advocating and drawing strength from one another.
The interior of the piece is a large grid of Brendan's words from this book, The Summer Becomes Absurd. They will be woven through over and under in a gridded frame. The words will run laterally — right to left and repeat.
The backdrop is a painting on aluminum panel that will signify the marking of time. Using the same grid that will house the words is the overlaying structure on the aluminum panel. In each square is a dot, from a fingerprint, or a drop of paint, or a drill hole. One moment after another. Times does not discriminate — each moment is equal, but we all feel that is not true.